Lookout
When boating, danger can come from different directions, so maintaining a proper lookout is crucial to boating safely.
Lookout when on the water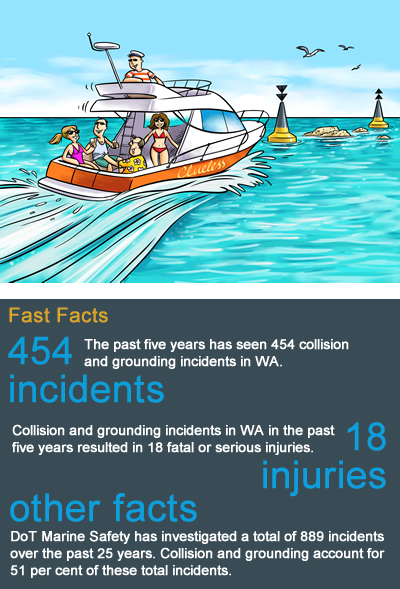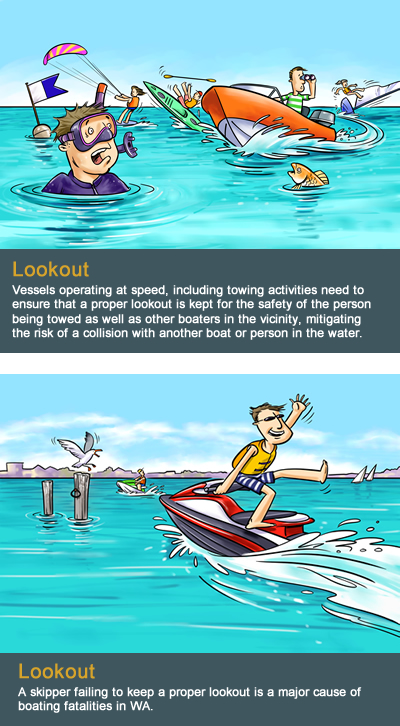 There is nothing more important to boating safety than keeping a lookout for possible danger. When boating, danger can come from different directions, so maintaining a proper lookout is crucial to boating safely. In fact, maintaining a proper lookout is one of the navigation rules.
WA Marine Act
In the WA Marine Act 1982 Prevention of Collisions at Sea Regulations 1983; Rule-5 Lookout 'Every vessel shall at all times maintain a proper lookout by sight and hearing as well as by all available means appropriate in the prevailing circumstances and conditions so as to make a full appraisal of the situation and of the risk of collision.' AustLII: Western Australian Marine Act 1982 (WA)
Simply put, look around and listen for danger in all conditions so you can make good decisions and avoid hitting another boat, something in the water, or even land.
Operators of vessels need to maintain a proper lookout for good reason: many boating accidents and collisions are caused by a failure to maintain a proper lookout.
While the requirement to maintain a lookout is simple, the advice to take it seriously isn't always heeded.
Proper Lookout
The key to maintaining a proper lookout is simply making it a habit and using common sense.
Skippers who fail to keep a proper lookout not only endanger their own lives and those of their passengers, they also jeopardise the safety of other water users.
View the YouTube video below to find out more on keeping a Proper Lookout.
How do you maintain a proper lookout?
The following guidelines will help boat owners assess possible danger and make good decisions to avoid collisions with objects or other boats, keeping skippers and passengers safe.
Just looking about occasionally will not suffice. If you are the skipper of the boat, take the following action:
Delegate someone to be a lookout. Assign your passengers with the task of lookout and position them so that they can easily see in all directions.
Both the skipper and the lookout watch carefully while the boat is in motion. If something is spotted by the skipper or the lookout, share the information clearly.
Be prepared to take action if you see danger. You may need to turn, slow down or take other action.
Avoid complacency; it is easy to be lulled into a false sense of security that endangers you and your passengers. As the skipper of a boat, it is your responsibility to maintain a proper lookout at all times, thus ensuring the safety of your vessel and passengers.
Tips
Lookout for anything that could present a danger such as other boats, land, sand bars, rocks, reefs, buoys or lights, crab/cray pots, debris in the water, marine mammals and discoloured water.
Tell passengers to report anything they see along with the direction and distance from the vessel.
Those maintaining a lookout should remain alert and give their full attention to the task.
Maintaining a lookout at night, in the fog, or in hazardous sea conditions is critical.
Further information about collision rules (rules of the road) can be found on the Rules at a glance page.
Resources
The image files below are provided for promotion of the Lookout safety campaign.  By downloading and using these images you agree to use the whole image and not alter the artwork in any way.