Electric hydrofoil
An electric hydrofoil is a surfboard with a hydrofoil attached with mechanical means of propulsion.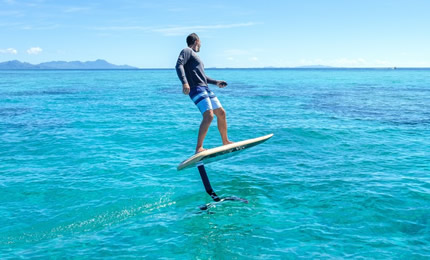 Man riding an electric hydrofoil
An electric hydrofoil is a surfboard with a hydrofoil attached with mechanical means of propulsion. The electric motor on the hydrofoil generates the speed required to lift the board up out of the water and onto the foil. The craft is manoeuvred by the rider shifting their weight on the board.
What you need to know
Electric hydrofoils are considered vessels in Western Australia and are required to comply with all requirements applicable to vessels, including registration. Operators of hydrofoils must have a Recreational Skipper's Ticket if the output is greater than 6 horsepower.
An exemption has been granted that exempts operators from carrying certain safety equipment as it would be impractical.
For this exemption to be valid, operators must comply with the following conditions:
Registration numbers are displayed on the left and right sides of the hydrofoil in a plain block design (not slanting or script) and if the background of each digit is not white, a white border of a width of at least 7 mm must surround each digit. The minimum size of each digit must not be less than 50 mm in height and 12 mm in width;
The hydrofoil is only operated between the hours of sunrise and sunset;
The required distress signals comply with Marine Order Part 25 or Australian Standard 2092-2004 Pyrotechnic marine distress flares and signals for pleasure craft and the expiry dates marked on them by the manufacturer must not have passed; and
The required safety equipment listed below is maintained in a serviceable condition and is produced to an officer of Department of Transport on demand.
Summary of safety equipment requirements
Distance
Safety equipment
Requirement
Outside protected waters and further than 400 metres from shore
Life jacket (minimum Level 50 or equivalent)
Must be worn
Outside protected waters and between 400 metres and 2 nautical miles from the mainland shore

No fewer than 2 red hand-held flares or 2 parachute distress rockets, and no fewer than 2 hand held orange smoke signals or 1 orange smoke canister

OR

An Emergency Position Indicating Radio Beacon (EPIRB) or Personal Locator Beacon (PLB)
Must be carried
More than 2 nautical miles from the mainland, or more than 400 metres from an island situated more than 2 nautical miles from the mainland.

An EPIRB or PLB

Must be carried
To read these conditions and the exemption in full please refer to the Notice for Electric Hydrofoils published in the Government Gazette on 16 August 2019.
People operating an electric hydrofoil must still comply with other marine legislation including speed restrictions, Recreational Skipper's Ticket requirements and the Prevention of Collisions at Sea Regulations 1983.