Electric hydrofoil
Find out about safety requirements for using an electric hydrofoil surfboard.
Electric hydrofoils are considered vessels in Western Australia and are required to:
You must have a Recreational Skipper's Ticket to operate an electric hydrofoil if the output is greater than 6 horsepower.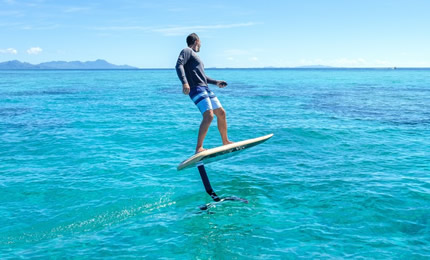 When using an electric hydrofoil you must:
only operate between the hours of sunrise and sunset;
display registration numbers that are:

on the left and right sides of the hydrofoil
in a plain block design (not slanting or script)
at least 50 mm in height and 12 mm in width.
If the background of each registration digit is not white, there must be a white border of a width of at least 7 mm must surround each digit.
When using an electric hydrofoil you must comply with the following safety equipment requirements.
In protected waters
When operating in rivers, lakes, estuaries, harbours and waters within 400 metres from the shore you must wear a lifejacket (Level 50 or higher).
In unprotected waters
When operating more than 400 metres from shore in unprotected waters:
A lifejacket (Level 50 or higher) must be worn.
You must carry a GPS-enabled EPIRB or wear a GPS-enabled PLB. You will have until 1 September 2028 to upgrade to a GPS enabled EPIRB.
You must carry at least 2 handheld red flares and 2 handheld orange flares. Parachute flares may be used in lieu of the red handheld but only until 1 September 2026.
Electronic Visual Distress Signals (EVDS) may be carried instead of flares only if a GPS-enabled EPIRB is carried or GPS-enabled PLB is worn.
You must carry a marine radio, when operating beyond 4 nautical miles from shore. 27-MHz radios are being phased out by 1 September 2028 and will no longer be compliant.
These safety equipment requirement for electric hydrofoils differ from other vessels as an exemption has been granted.
Before you leave home:
Check the latest weather update and tide information
Check all your safety equipment is in date and in working order
Tell someone where you are going and when you intend to return.
Download the Deckee app for safety, weather and location-based information to help you stay safe on the water.