Hillarys
Hillarys Harbour contains over 400 boat pens, a service wharf, 6 boat ramps, and a boat lifting and maintenance facility. Hillarys also has a number of universal access and mobility infrastructure to ensure that all users, regardless of ability, are able
Plan your Hillarys boating trip
Hillarys Boat Harbour facilities
Hillarys traffic changes
Hillarys Boat Ramp access changes
To address unsafe queuing on surrounding roads, access to the boat ramp at Hillarys Boat Harbour is changing.
Only Whitfords Avenue and Northside Drive will be access points for skippers. There will no longer be access to the ramp via the internal Southside Drive roundabout.
The change is based on user feedback and traffic modelling and aims to make queuing safer. The monitored traffic change will see traffic controllers in place 17-18 April 2021 and 24-26 April 2021.
Contact Harbour Management
Phone: (08) 9216 8529 | Mob: 0418 912 036
Harbour experiences
Hillarys Boat Harbour is a unique destination in Perth's north combining a working harbour and marina with retail, dining and entertainment options along with family friendly recreation opportunities.
The endless activities on site and the resort accommodation make Hillarys the perfect place to take a break or visit.
Great ideas for your next harbour experience:
Follow one of the harbour walking trails. Download the map below.
Visit one of the beaches, launch your kayak or hire a paddle board.
Enjoy a picnic on the lawns.
Fish from the breakwater.
Admire the sunset from the lighthouse.
Launch your boat and enjoy a day on the water.
Grab an ice-cream, drink or meal from the many cafes, restaurants and food outlets.
Visit the many retailers offering a range of services and a friendly, relaxed shopping experience. Visit the Hillarys Boat Harbour website to find out more.
Project: Hillarys Boat Harbour upgrade
Work on the $1.2 million extension of the northern car park at Hillarys Boat Harbour to add extra bays to the popular destination has been completed.
For more information visit the Hillarys Boat Harbour upgrade page.
Mooring/pen availability and contacts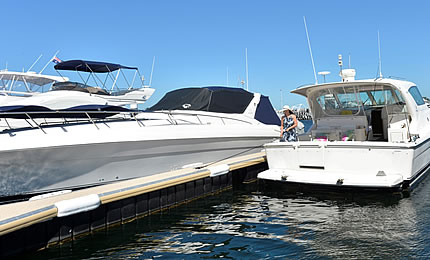 Boat pens are available at Department of Transports metropolitan and regional boating facilities providing a secure, convenient option to easily access your favourite boating destination.
The Department of Transport has vacant pens available in metropolitan areas such as Fremantle and Two Rocks Marina, as well as regional areas including the Mid-West, South West and Great Southern.
Pens range in size from 8 to 25 metres. Having your own pen will provide you with a safe and convenient facility for your boat with secure access giving you more time on the water.
For information relating to fees and charges applying to pens, please refer to the Schedule of maritime facilities fees and charges (2019/2020).
Wait lists
The Department of Transport manages boat harbours and other maritime facilities for small craft around the state. Vessel accommodation offered at each maritime facility is different, and may include pens, swing or pile moorings, or a mix of both. There will usually be different size pens or moorings available at each facility, catering for vessels from six metres upwards.
Vessel accommodation is always in high demand. Where the number of pens/moorings available is not sufficient to satisfy demand, the DoT maritime facility maintains a waiting list.
Facilities that may have a wait list
Bunbury, Casuarina Boat Harbour moorings.
Bunbury, Casuarina Boat Harbour pens.
Exmouth boating facility.
Fremantle Challenger Harbour.
Fremantle Fishing Boat Harbour.
Geraldton boating facility.
Hillarys Boat Harbour.
Members of the public who wish to be considered for a long term (annual) vacancy in the pen/mooring system when one becomes available are able to put their name on the wait list.
Wait list process
If you would like to be on a wait list for a pen or mooring please contact us via the application form below.
You will be assigned a wait list number. (example: CBH 001)
Once a suitable pen/mooring is available, you will be contacted in writing by the Department. You will be given two-weeks to respond.
If you do not respond within the two week period your name will automatically come off the wait list. You will need to re-apply to go on the wait list again.
You will get a maximum of two offers within a year. If you decline both offers, your name will be removed from the wait list.
Need to come off the wait list?
If you are on a wait list, but have acquired a pen or mooring elsewhere, please notify the wait list facility and ask to have your name removed.
Mooring/pen contacts
| Region | Facility | Office location | Phone contact | Email contact |
| --- | --- | --- | --- | --- |
| Gascoyne | Carnarvon Small Boat Harbour | Department of Transport, Gascoyne, Harbour Road Carnarvon WA 6701 | (08) 9216 8230 | Email |
| Gascoyne | Exmouth Boating Facility | Department of Transport, 21 Maidstone Crescent Exmouth WA 6707 | (08) 9216 8220 | Email |
| Goldfields/Esperance | Bandy Creek Boat Harbour, Esperance | Department of Transport, Goldfields Esperance, Unit 4/35 Brookman Street Kalgoorlie WA 6430 | (08) 9216 8099 | Email |
| Great Southern | Albany Waterfront Marina | Department of Transport, Great Southern, Suite 2, 178 Stirling Terrace Albany WA 6330 | (08) 9216 8520 | Email |
| Great Southern | Emu Point Boat Harbour, Albany | | (08) 9216 8520 | Email |
| Metropolitan | Challenger Boat Harbour | | (08) 9431 1020 | Email |
| Metropolitan | Two Rocks Marina | Hillarys Boat Harbour, Level 1 Southside Drive Hillarys WA 6025 | (08) 6241 5503 | Email |
| Mid West | Batavia Coast Marina, Geraldton | | (08) 9216 8170 | Email |
| Mid West | Jurien Bay Boat Harbour | Department of Transport, Mid West, 65 Chapman Road, Geraldton WA 6530 | (08) 9216 8170 | Email |
| Mid West | Kalbarri Maritime Facility | | (08) 9216 8170 | Email |
| Southwest | Augusta Boat Harbour | Department of Transport, South West, 24 Wellington Street Bunbury WA 6231 | (08) 9216 8200 | Email |
| Southwest | Casuarina Boat Harbour, Bunbury | | (08) 9216 8200 | Email |
Maritime facilities: schedule of fees and charges (2020/2021)
In recognition of the current economic environment DoT has not increased vessel accommodation fees in 2020-21, and invoicing for vessel accommodation will reflect 2019-20 charges. For further information regarding fees and charges applying from 1 July 2020 at DoT maritime facilities, please refer to the documents below.
The 'Maritime facilities: Schedule of marine fees and charges' document contains fees and vessel accommodation information on numerous DoT managed facilities, including the following;
Ferry licence fees.
Fuel wharfage fees.
General notes.
Jetty and mooring area licence fees.
Statewide fees.
Whitfords Volunteer Sea Rescue Group Inc.
Street address
Postal address
Telephone
Fax
Email
1 Boat Harbour Quays,
Ocean Reef WA 6027
(08) 9401 3757
Tide predictions and resources
Find out about annual tide predictions at various locations along Western Australia's coast. All data provided is subject to DoT's disclaimer, conditions of use and copyright policy.
Bureau of Meteorology resources
The Bureau of Meteorology (BOM) offers a range of tide related information:
About the weather and wave information on this page
All information is provided to the public subject to the Department of Transport's disclaimer, privacy, copyright and conditions of use policy.
Weather
Weather information is gathered from the Bureau of Meteorology website.
Wave information
The wave climate at any location can be, and usually is, a combination of sea and swell and is often referred to as the total wave.
The graphs provide information on sea waves and swell waves. They are updated as near to real-time as possible.
The near real-time wave data is downloaded from recording sites and graphics created for the web using software developed by Tremarfon Pty Ltd.
Commercial Charter Vessel Code of Conduct
The Commercial Charter Vessel Code of Conduct has been developed in Partnership with Marine Tourism WA, DoT and the Department of Biodiversity Conservation and Attractions (DBCA).
The Code covers the Swan Canning Riverpark and the Metropolitan Coastline from Port Kennedy to Two Rocks.
The Code clearly outlines roles and responsibilities of various agencies involved in the regulation of commercial charter industry vessels including DoT, DBCA the Australian Maritime Safety Authority (AMSA), Department of Local Government Sport and Cultural Industries and WA Water Police.