WA Bike Month
WA Bike Month celebrates riding bikes for transport, fun and a heathier lifestyle, and aims to encourage people of all ages and abilities to ride more often for everyday trips.
Over the past 30 years, the Department of Transport has coordinated an annual celebration of cycling.
The campaign has traditionally run across 'Bike Week' in March of each year, however with its success and popularity growing each year, the Department is now supporting WA Bike Month in the spring of each year.
Get active for Bike Month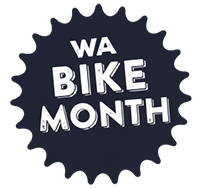 Western Australia's annual celebration of bike riding, Bike Month, is back this October. DoT is partnering with WestCycle, WA's peak body for cycling, to deliver the program.
WA Bike Month 2020 aims to increase awareness of bike riding as a fun and healthy activity that can be done by people of all ages and abilities, and encourages people to have a go.
Bike riding improves your health and well-being, while reducing car traffic and pollution. It is also a fun activity that can be enjoyed by people of all ages and abilities.
Celebrate Bike Month by getting a group of friends together for a ride or riding with your kids to school.
Head to the official Bike Month website to check out the calendar of events and get riding this spring!
Note: The Bike Month Challenge run in 2019 is not being repeated in 2020, but there are a number of spring challenges running that you can sign up for, including Love to Ride's Cycle September global competition and the Great Cycle Challenge Australia.
If you haven't been on your bike for a while, give it a quick check. Learn how by viewing DoT's ABC Bike Check video.