Exmouth Boat Harbour master plan
We are working with the Shire of Exmouth and key stakeholders on a master plan to guide the development of the Exmouth Boat Harbour.
Exmouth Boat Harbour is the largest harbour south of the Pilbara and is strategically well placed as a service and support centre for operations associated with resources sector in the north. Its close proximity to the Ningaloo Marine Park also presents significant opportunity in the tourism sector.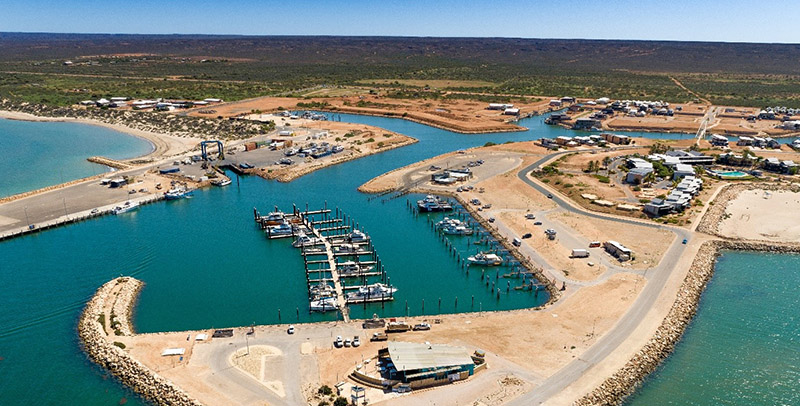 DoT commissioned UDLA to prepare a masterplan for the northern precinct of the harbour to guide development over the next 40 years.
The Exmouth Boat Harbour Masterplan was developed by DoT in consultation with the Shire of Exmouth, Exmouth Chamber of Commerce, Gascoyne Development Commission and neighbouring business and community groups who provided valuable input to the planning process
The Masterplan aims to activate prime waterfront land with views of the Exmouth Gulf in the northern precinct of the harbour.
The Plan provides a vision for the harbour and includes:
Significantly strengthening the relationship between the existing Town Centre and the harbour.
Activation of harbour waterfront land to create a new tourist destination.
Provide unique and diverse accommodation, retail, commercial, food & beverage offerings.
New community areas with public open space and improved amenity and recreation areas.
Opportunities for development of commercial sites and diverse visitor offerings including retail stores, local art and cultural experiences.
Improved non-vehicular (pedestrian, e-bikes, e-scooters etc) connections from the Harbour to the Exmouth Town Centre.
New way-finding and entrances to attract visitors to the Harbour from both Murat Road and for vessel arrivals.
Next steps will be to review services and infrastructure upgrades that will be required to progress development at the Harbour.
There will be continued consultation with key stakeholders as the Plan is activated.