Mooring and pen wait lists
Find out about mooring and boat pen availability at metropolitan and regional boating facilities.
Mooring/pen availability and contacts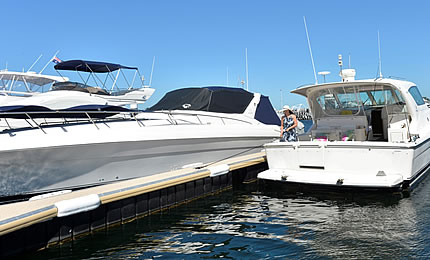 Boat pens are available at Department of Transports metropolitan and regional boating facilities providing a secure, convenient option to easily access your favourite boating destination.
The Department of Transport has vacant pens available in metropolitan areas such as Fremantle and Two Rocks Marina, as well as regional areas including the Mid-West, South West and Great Southern.
Pens range in size from 8 to 25 metres. Having your own pen will provide you with a safe and convenient facility for your boat with secure access giving you more time on the water.
For information relating to fees and charges applying to pens, please refer to the Schedule of maritime facilities fees and charges (2019/2020).
Wait lists
The Department of Transport manages boat harbours and other maritime facilities for small craft around the state. Vessel accommodation offered at each maritime facility is different, and may include pens, swing or pile moorings, or a mix of both. There will usually be different size pens or moorings available at each facility, catering for vessels from six metres upwards.
Vessel accommodation is always in high demand. Where the number of pens/moorings available is not sufficient to satisfy demand, the DoT maritime facility maintains a waiting list.
Facilities that may have a wait list
Bunbury, Casuarina Boat Harbour moorings.
Bunbury, Casuarina Boat Harbour pens.
Exmouth boating facility.
Fremantle Challenger Harbour.
Fremantle Fishing Boat Harbour.
Geraldton boating facility.
Hillarys Boat Harbour.
Members of the public who wish to be considered for a long term (annual) vacancy in the pen/mooring system when one becomes available are able to put their name on the wait list.
Swing moorings
To apply for a DoT swing mooring in the following Mooring Control Areas please complete a New Mooring Application Form (below) and pay the application fee.
Metro - Swan and Canning River
Rockingham - Mangles Bay
Albany – Oyster Harbour
Peel – Dawesville
Carnarvon Fascine
Please submit your completed application form to: moorings@transport.wa.gov.au.
Wait list process
If you would like to be on a wait list for a pen or mooring please contact us via the application form below.
You will be assigned a wait list number. (example: CBH 001)
Once a suitable pen/mooring is available, you will be contacted in writing by the Department. You will be given two-weeks to respond.
If you do not respond within the two week period your name will automatically come off the wait list. You will need to re-apply to go on the wait list again.
You will get a maximum of two offers within a year. If you decline both offers, your name will be removed from the wait list.
Need to come off the wait list?
If you are on a wait list, but have acquired a pen or mooring elsewhere, please notify the wait list facility and ask to have your name removed.
Mooring/pen contacts
| Region | Facility | Office location | Phone contact | Email contact |
| --- | --- | --- | --- | --- |
| Gascoyne | Carnarvon Small Boat Harbour | Department of Transport, Gascoyne, Harbour Road Carnarvon WA 6701 | (08) 9216 8230 | Email |
| Gascoyne | Exmouth Boating Facility | Department of Transport, 21 Maidstone Crescent Exmouth WA 6707 | (08) 9216 8220 | Email |
| Goldfields/Esperance | Bandy Creek Boat Harbour, Esperance | Department of Transport, Great Southern, Suite 2, 178 Stirling Terrace Albany WA 6330 | (08) 9216 8520 | Email |
| Great Southern | Albany Waterfront Marina | Department of Transport, Great Southern, Suite 2, 178 Stirling Terrace Albany WA 6330 | (08) 9216 8520 | Email |
| Great Southern | Emu Point Boat Harbour, Albany | | (08) 9216 8520 | Email |
| Metropolitan | Challenger Boat Harbour | | (08) 9431 1020 | Email |
| Metropolitan | Two Rocks Marina | Hillarys Boat Harbour, Level 1 Southside Drive Hillarys WA 6025 | (08) 6241 5503 | Email |
| Mid West | Batavia Coast Marina, Geraldton | | (08) 9216 8170 | Email |
| Mid West | Jurien Bay Boat Harbour | Department of Transport, Mid West, 65 Chapman Road, Geraldton WA 6530 | (08) 9216 8170 | Email |
| Mid West | Kalbarri Maritime Facility | | (08) 9216 8170 | Email |
| Southwest | Augusta Boat Harbour | Department of Transport, South West, 24 Wellington Street Bunbury WA 6231 | (08) 9216 8200 | Email |
| Southwest | Casuarina Boat Harbour, Bunbury | | (08) 9216 8200 | Email |